Gianfranco Belloni, who founded BePlast in '65 with his brother Luciano.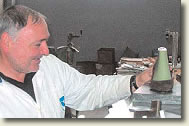 Giuliano Pravettoni model maker and one of the pillars of the firm.
Raffaella and Giorgio Belloni, the new generation running Be Plast.
Tradition, Expertise, Competence, Skill, Helpfulness and Compassion are our strengths.
In the 1965, the Belloni brothers, experts in the production of wooden heels for their father's nationally recognised manufacturing company ITABA, identified an opportunity to remain relevant in the evolving market and established Beplast with the goal of adapting the manufacturing process from wooden heels to plastic heels.
Based in the heart of Northern Italy's shoe production region, Beplast opened for business in Parabiago and, still today with its third generation leadership, remains an important component of the area's expertise, which includes international market leaders such as Chanel, Louboutin, Hermes, Max Mara, Pierre Hardy and Fratelli Rossetti.
Beplast, guided by Giorgio Belloni, together with the collaboration of the founders, Gianfranco and Luciano, continues to lead the sector at both national and international level. The strong relationships through the Parabiago, Vigevano and Brescia regions provides Beplast the opportunity to continue its focus on increased efficiencies, innovation, quality and customer experience.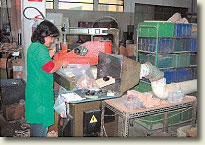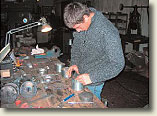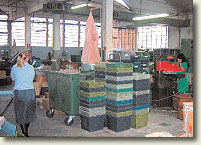 Interior of the production department and the workshop.